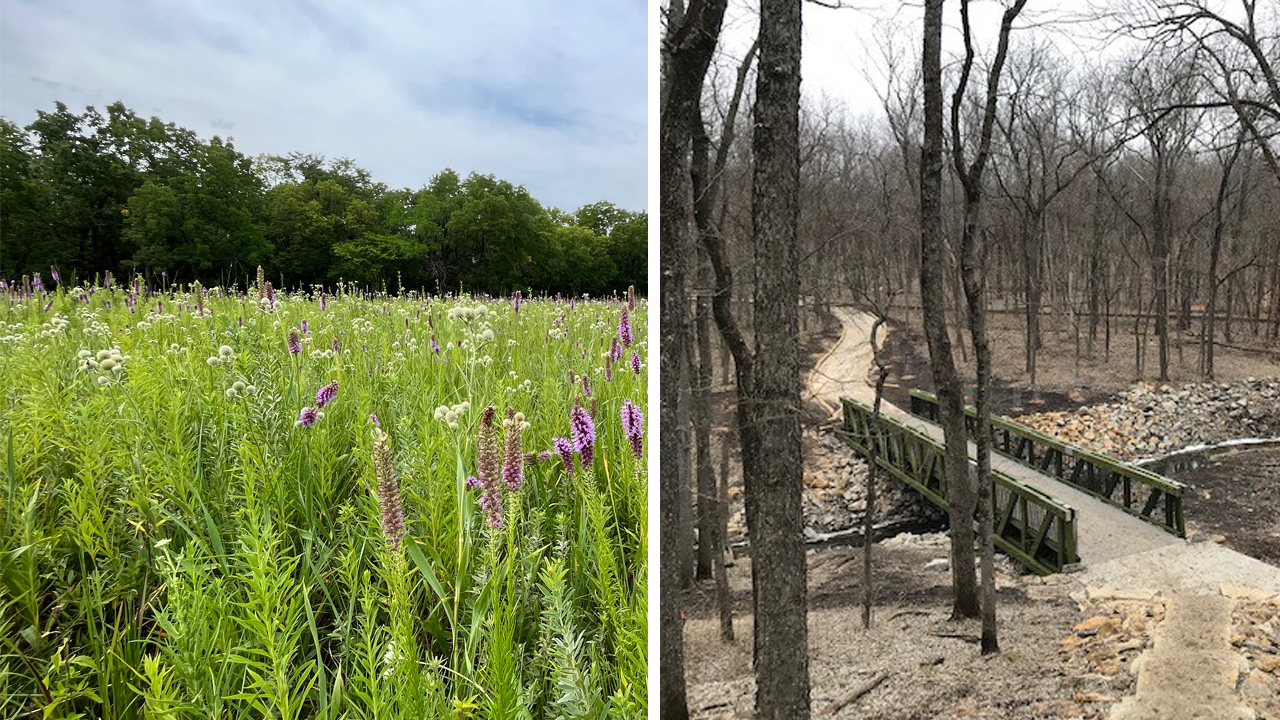 Join Deep Roots this September for two informative and collaborative field trips where we will highlight large-scale restoration and management practices at two different public sites, emphasizing woodland and grassland management.
Ernie Miller Park: September 13, 2023. 9:00am – 11:30am
909 North, K-7, Olathe, KS 66061
Join Matt Garrett, Natural Resource Manager at Johnson County Parks and Recreation District, on this woodland specific tour of bush honeysuckle removal efforts.  JCPRD staff, contractors, and volunteers have removed 116 acres of bush honeysuckle and have begun a 10-year restoration project that includes long term monitoring. This is a great opportunity to see how to begin and maintain a long-term restoration initiative in any woodland hampered by invasive encroachment.
Jerry Smith Park: September 20, 2023. 9:00am – 11:30am
139th St and Prospect Ave, Kansas City, MO 64146
Join Linda Lehrbaum, Program Manager at Kansas City WildLands, as she leads a tour through the remnant prairie at Jerry Smith Park.  She will be discussing the challenges of urban prairie management. Stakeholders dealing with pasture degradation or aiming to restore or reconstruct native grassland ecosystems will find Jerry Smith Park as a good template for measuring success, and gauging maintenance requirements at larger scale.
Register now!  Space is limited to 25 attendees per site. We recommend visiting both sites if possible.  These areas will help to demonstrate the spectrum of outcomes possible with varying levels of resources and labor input from their municipal stakeholders.  We encourage you to bring your questions, contributions, and insight for successful management.
Please register using the links below. A small ticket fee of $5 helps cover drinks, snacks and supplies for each workshop.
Click here to register for Ernie Miller on September 13th
Click here to register for Jerry Smith on September 20th.
If you have any questions about the events, please contact Chris Cardwell at chris@deeprootskc.org.