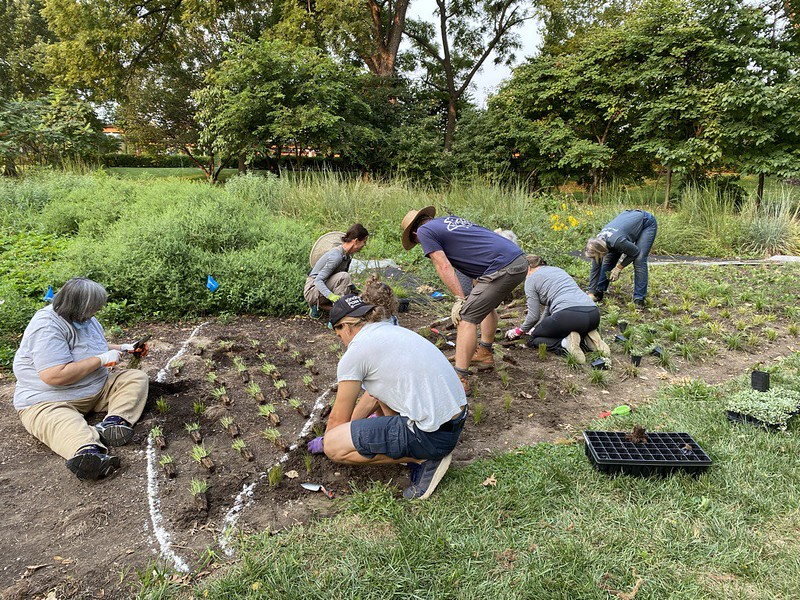 Did you know you can learn about native plants by volunteering with Deep Roots? Now through the month of October, Deep Roots will host garden work days behind the beautiful Anita B. Gorman Conservation Discovery Center located at 4750 Troost Ave, Kansas City, MO 64110.
This garden, a labor of love and passion, has shown countless visitors what a native garden can look like in all the glorious seasons of the year in an urban setting as well as a residential setting. Learn more about the history of this garden by clicking here.
Volunteers with varying backgrounds and history, but the same passion for native plants and the environment, care for this garden and make it a perfect spot for learning and enjoying throughout the year.
There will be 3 separate sessions per month, one on the 1st Thursday of the month at 6:00PM, one on the 2nd Saturday of the month at 8:00AM, and one on the 4th Thursday at 9:00AM. Times and dates may change depending on weather/etc. but should remain generally consistent through the season. Work sessions start in April and continue through October. Each session will last 1 ½ – 2 hours.  One assigned lead volunteer will head each session.
Our goal is to have 6-14 volunteers per session. It is recommended that volunteers sign up for a minimum of 3 to 4 sessions, i.e., once a month for 3 to 4 months, (preferably all 7 sessions if available) for consistency and training. In addition to being a great volunteer opportunity, these sessions are also an excellent educational opportunity! Learn about native plants from leading experts as well as other highly skilled veteran volunteers. Don't forget water, bug spray and sunscreen!
First Thursday evening sessions – 6:00PM        
Third Saturday Morning Sesssions – 8:00AM
Fourth Thursday Morning Sessions – 9:00AM
[/column]