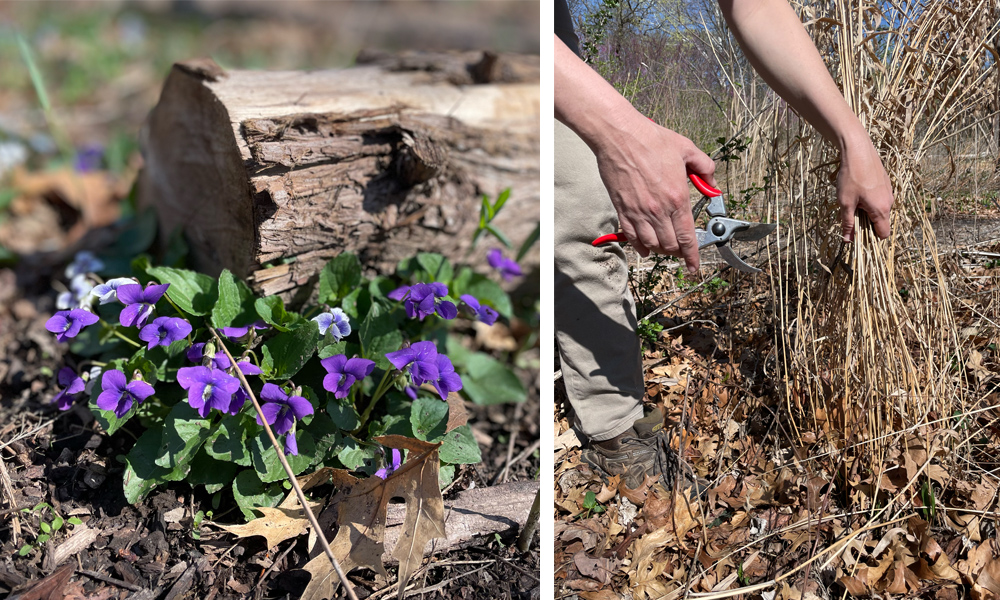 Article and Photos by Cydney Ross, Outdoor Education Manager
Warm spring days have arrived in Kansas City and folks are wondering what garden tasks they can tackle before hot weather sets in. Early spring is the time to get outside and observe what's emerging in your garden. It's also a good time to reflect on your gardening goals before starting spring maintenance.
Your gardening goals and a plant's habitat preference can determine how much you cut back and what you do with leftover plant material. Woodlands prefer leaf litter to feed its soil while prairies are accustomed to prescribed burns which release built-up duff. With this observation in mind, I generally leave more plant material in shaded areas and make sure full-sun species aren't smothered.
It's likely you're familiar with the "leave the leaves" trend and ditched outdated yard chores last fall. Standing plant material is an overwintering habitat for a variety of insects. Many of which are nutrient-rich baby bird food, like caterpillars and other soft-bodied insects. If we bag up and dispose of plant material, we're throwing away important food sources and life for that matter!
Come spring, consistent temps above freezing mean overwintering insects emerge from dry plant stalks and leaf litter. It's at this time I cut standing plant material to 10"-12" tall which gives way for more sunlight and airflow to reach emerging foliage. Be careful not to cut new growth when trimming back the old.
Non-native annual friends like Chickweed, Deadnettle, and Henbit up and thriving this time of year. Same with native perennial Violets (Viola sororia), which also make a fabulous groundcover. I don't bother weeding them out unless I'm planting something right in its place. They're edible and go dormant once the heat sets in. I appreciate their tiny flowers and would rather spend my time doing something else, like pulling non-native invasive Honeysuckle (Lonicera maackii) and Wintercreeper (Euonymus fortunei).
It's one thing to read about native plants and another to get your hands dirty* and learn from the earth. Observing what is happening in the garden can offer clues to what plants need. In turn, this understanding brings us closer to nature and makes for a happier and healthier world. And one last thing…there is no such thing as a "no maintenance" garden. All gardens take effort, the amount of maintenance depends on your goals and the plants you selected.
Happy gardening!
*Join Cydney and other enthusiastic native plant gardeners each month during our volunteer workdays at the Discovery Center!