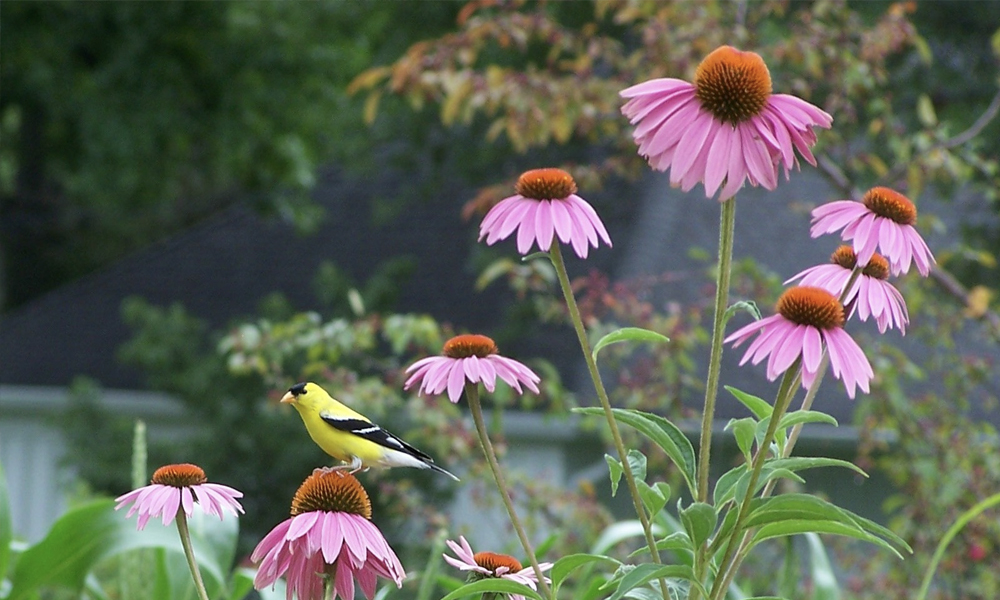 Pictured: True native echinacea purpurea
By Stacia Stelk
Spring is officially here (even if it doesn't quite feel like it), and many of us are ready to start planting! As we peruse our native plant options both online and at stores, we will likely happen upon some cultivated native plant species known as cultivars or nativars.
A "true" native plant is one that is found naturally in a geographic area prior to European settlement. Cultivars, on the other hand, are plants that horticulturalists have bred to enhance some specific traits, such as a longer bloom time. While shopping, beware of catchy names if you want a true native plant! True native species will be identified by their Latin names, like Echinacea purpurea. If you stumble upon Echinacea purpurea 'Magnus', you've actually stumbled upon a cultivar.
There are a lot of outstanding questions about cultivars. Do they support wildlife as well as true natives? What is a cultivar's impact on the progeny of true natives if they crossbreed? Is disease resistance a consideration? Thankfully, people are researching these questions, including The Mt. Cuba Center in Hockessin, Delaware. There, researchers have established "trial gardens" to test nativars for the attractiveness to pollinators, growth, vigor, and disease resistance.
To help us navigate the world of true natives and cultivars, Deep Roots has invited Scott Woodbury as our Lunch & Learn speaker on Thursday, April 6. Scott Woodbury is a regional treasure and a native plant expert. He is best known for his work at the Shaw Nature Reserve and is now the owner of Cacalia Design & Wilding. Join us for a Lunch & Learn interlude of learning and a spirited discussion by registering here.