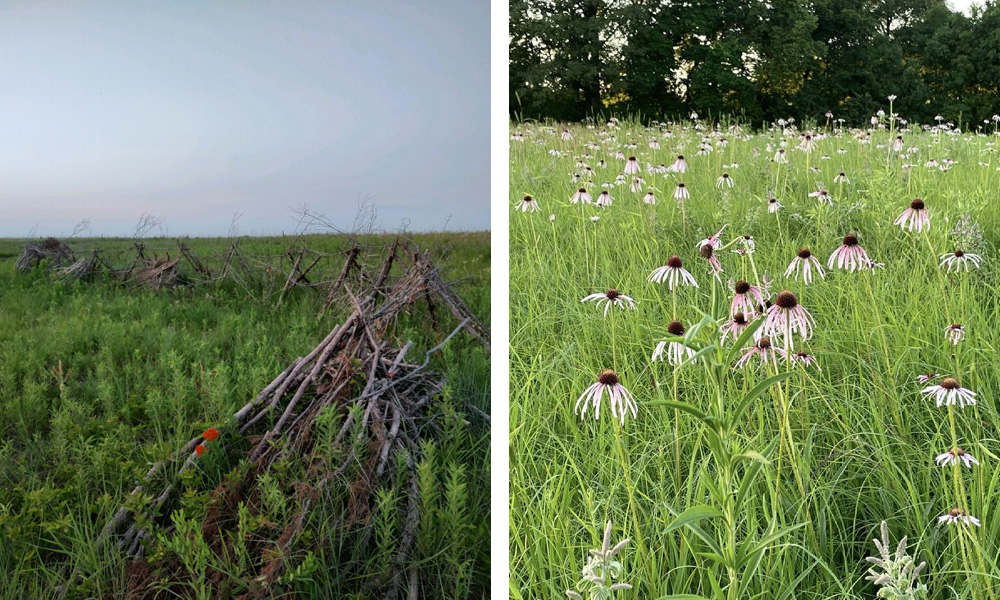 Left: Restoring Refuge; Right: Purple Coneflower, Kill Creek
By: Cydney Ross, Outdoor Education Manager
As a naturalist and artist, it's my goal to spark people's curiosity. I believe through awe-inspiring moments we can develop compassion for the world around us. Guided tours are a great way to connect in this way. Read on to learn more about in-person events we've got coming up this summer!
 Native Landscape Chat
The Missouri Department of Conservation offers free educational programs covering a variety of topics: from archery to canoeing, hunting to wild crafts, even our upcoming Ladies Night Out! Each first Friday at 1:00pm, folks gather inside the lobby of the Anita B. Gorman Conservation Discovery Center to go on the monthly "Native Landscape Chat" hosted by MDC Native Landscape Specialist, Alix Daniel, and myself.
During these chats we take people into the landscape and show off what's blooming and of interest in the gardens. We discuss various maintenance techniques, what works (what doesn't), and often go on tangents about beautiful fauna along the way! These tours offer a behind the scenes glimpse of what it takes to maintain nine-acres of native landscaping. Bring your gardening questions and join us for our next in-person tour!
Kill Creek Park Field Trip
If you tuned in to our May edition of "Lunch and Learn" series, you saw Alix Daniel and I talking about "Restoring Refuge" the art installation we created at Kill Creek Park earlier this year. We spent many weeks out on the prairie completing our art and natural resource residency with Johnson County Parks and Recreation Department. With their support we dedicated the spring season to learn about diverse prairie ecosystems with experts and create art in response.
Join me on Saturday, July 22nd for a special morning tour of our art installation and glimpse into the prairie ecosystems at Kill Creek Park. This treasured landscape includes prime examples of managed prairies, one of our most endangered habitats in the world. Register for our prairie walks here.