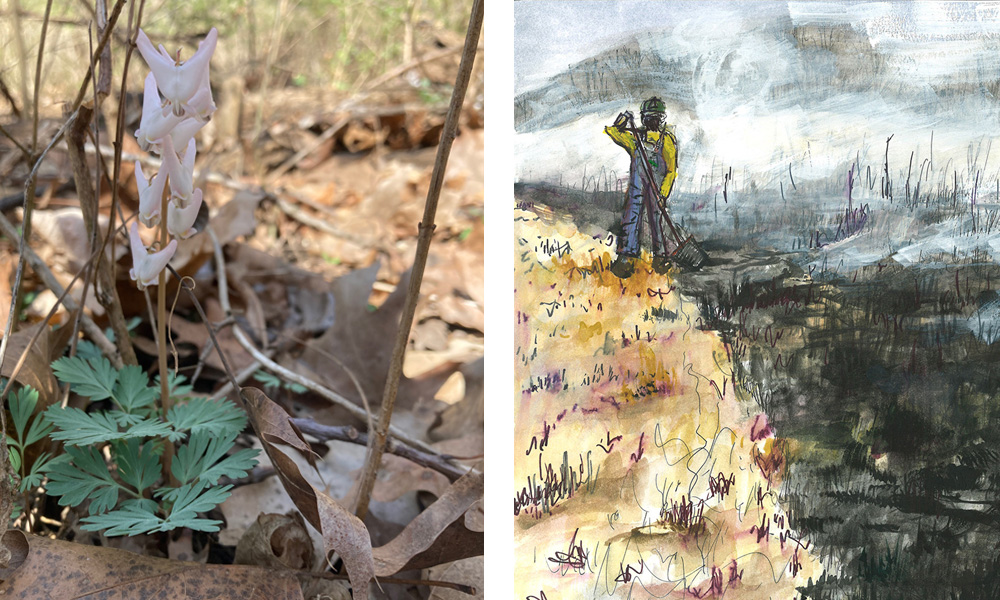 Photo (Left): Chris Cardwell; Illustration (Right and Below): Cydney Ross
Article by Chris Cardwell
Native Plants at Noon Hits the Road for Spring Ephemerals
The first blooms of Spring are bursting into full color as April marches on. Woodland ephemerals like Dutchman's Breeches (Dicentra cucullaria) and Virginia Bluebells (Mertensia virginica) are in full display this month, almost nowhere more impressively in Kansas City than at Bluebell Valley, a forested site near the Rock Island Trail on the edge of the Little Blue River.
Join our hosts Cydney Ross, Alix Daniel and Pat Whalen for a virtual hike of Bluebell Valley and an ephemeral native plant identification exercise. Learn about the rich history of the conservation efforts to preserve this hidden gem of native plant habitat, the partnerships that made it possible, and the impressive body of restoration work already completed by KC Wildlands and Missouri Master Naturalists.
Don't miss this perfect opportunity to virtually get out into the woodlands of the Kansas City area in their peak Spring color. Tune in Thursday, April 20th, for Native Plants at Noon – On The Road. Register Here
Where Art and Ecology Meet
For the second year in a row, Johnson County Parks and Recreation Dept. has welcomed local artists to participate in their Art and Natural Resources Residency. In late February, the artist duo of Deep Roots Outreach Manager, Cydney Ross, and Missouri Dept. of Conservation Native Landscape Specialist, Alix Daniel, began their immersive experience, embedded within JCPRD's Natural Resources team for prairie restoration work at Kill Creek Park.
Humans have always used art as a lens through which to explore the natural landscape, observe the delicate balance of ecosystems, and raise important dialogue about the roles of various peoples within those systems. And as the tallgrass prairie is a critically endangered habitat, Cydney and Alix hope to emphasize the importance of decades of JCPRD's prairie restoration efforts at the park and engage the community to reconnect with these precious local resources, through an ephemeral art installation.
Join Cydney and Alix as they discuss the residency and their vision with JCPRD's Natural Resource Manager and Field Biologist, Matt Garrett for the May 4th installment of Deep Roots Lunch and Learn, 12pm-1pm. Every first Thursday of the month, we bring the professionals to you with engaging conversations, and premier native landscape expertise. Register here.