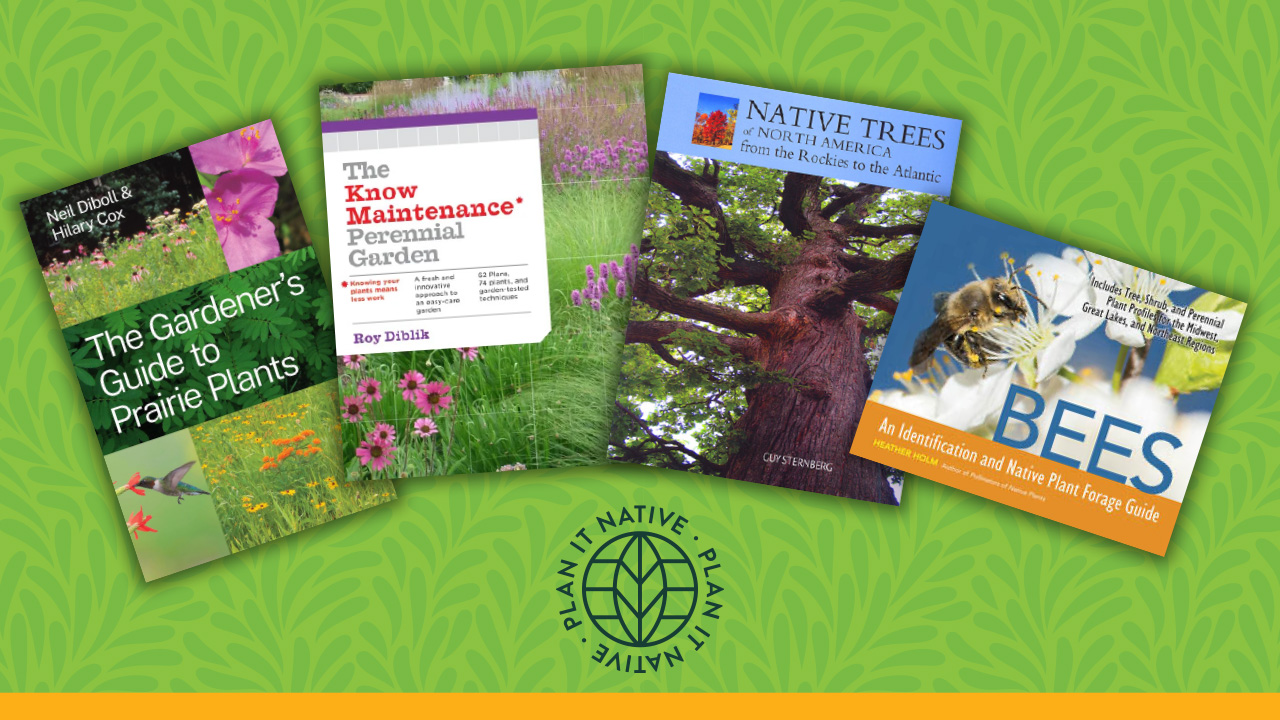 Written by Stacia Stelk
Do you love snuggling down with a good book? Do you spend cold winter days dreaming about your native plant gardens? Deep Roots has some book recommendations for you!
The Gardener's Guide to Prairie Plants, Neil Diboll and Hillary Cox
Neil is a consulting ecologist for Prairie Nursery in Westfield Wisconsin. Considered a pioneer in the native plant industry, he is recognized internationally as an expert in native plant ecology. Neil's new book, with co-author Hillary Cox, is a wide-ranging and definitive reference for starting and maintaining prairie and meadow gardens and restorations. Alongside detailed synopses of plant life cycles, meticulous range maps, and sweeping overviews of natural history, Diboll and Cox also include photographs of 148 prairie plants in every stage of development, from seedling to seedhead.
The Know Maintenance Perennial Garden, Roy Diblik
Roy is co-owner of Northwind Perennial Farm located in Burlington, Wisconsin. He has been growing traditional and native perennials since 1978. His garden designs emphasize plant relationships to maintenance strategies and costs. In his book, Roy writes, "The Know Maintenance approach is not a do-nothing system, but it does start in a special place: it takes into account the conditions you have and incorporates plants that have a forgiving nature…"  He shares 62 garden plans with complimentary plants that grow together as a community.
Bees: An Identification and Native Plant Forage Guide, Heather Holm
Heather Holm is a pollinator conservationist and award-winning author. In her book, Bees, An Identification and Native Plant Forage Guide, Heather introduces the reader to multiple bee families, their life cycles, nesting sites, and more. The more you know about how and where native bees live, the better you can invite them to your spaces through her Forage Guide. The Forage Guide highlights native trees, shrubs, annuals, biennials, and perennials to support native bee habitat.
Native Trees of North America from the Rockies to the Atlantic, Guy Sternberg
Guy Sternberg is the co-founder of Starhill Forest Arboretum, which has developed the most comprehensive research collection of oaks in the US with approximately 250 taxa. Guy has authored many books and articles about trees and ecology, and his latest (and final, so he claims!) reference book is the massive Native Trees of North America, from the Rockies to the Atlantic. Guy's book describes the ecology of forests and interactions between trees and humans. Every tree in eastern and central North America, from Canada down to the subtropics, is included either as a featured species or a similar species.  Topics covered for each tree include a general description, foliage, flowers, fruits, seasonal attributes, native and adaptive range, culture, problems, cultivars, similar and related species
What's better than enjoying these books as part of your landscape planning? Meeting the authors! Join Neil, Roy, Heather, and Guy at Plan It Native 2024! Each of these authors is a premier speaker at our February conference. They are available to answer questions, sign books, and inspire our native plant journeys! Space is limited – learn more and register now!
Each of these books are also available for purchase when you register for Plan It Native 2024.  If purchased during registration, the books will be ready for you to pick up at the conference.