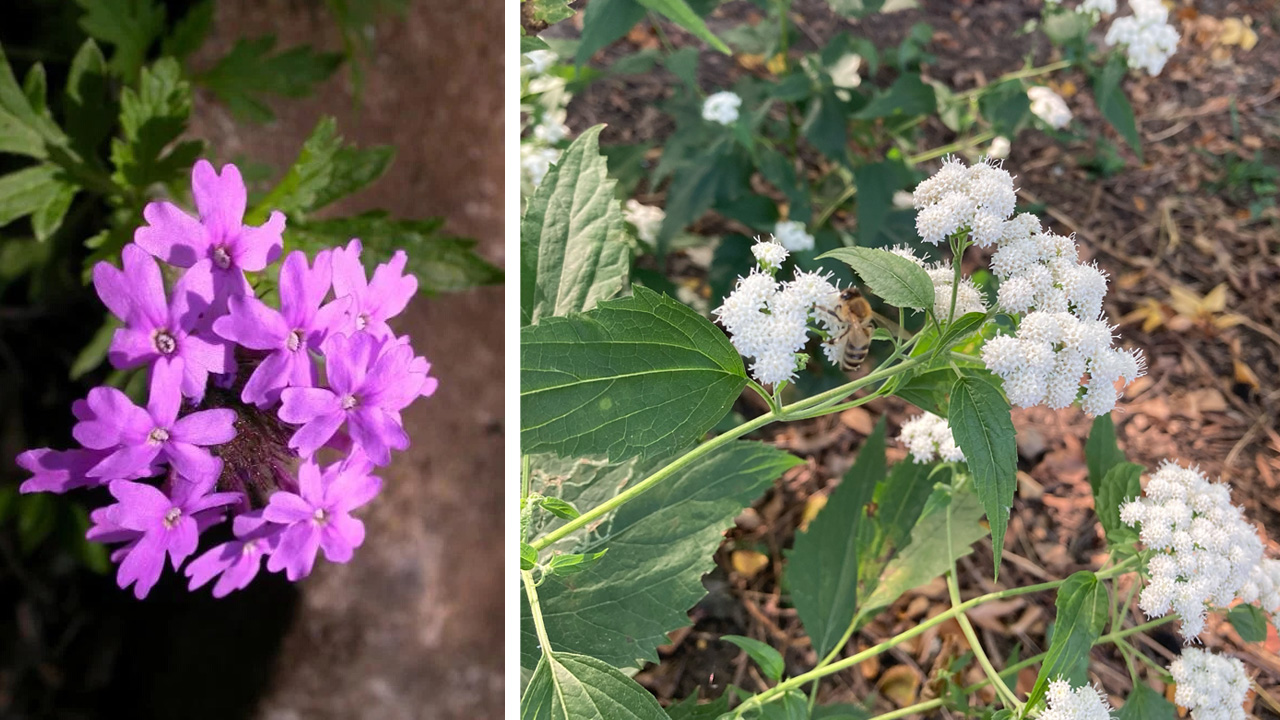 Above left: Rose Verbena, photo credit MDC
Above right: White Snakeroot, photo credit Chris Cardwell
Written by Chris Cardwell
They've patiently waited all season while their showy summer counterparts took center stage. But as the daylight shortens, temperatures dip, and we humans don our flannels and break out the sweaters, fall blooming native plants are taking this time to finally shine. I find myself marveling at color combinations that are seldom seen in the earlier parts of the growing season, the most delicate purples and pale lavenders of asters seem to wash perfectly into the blaze of oranges, reds and yellows of the deciduous canopies that tower over them.
As this beautiful display surrounds us in our natural spaces, it's important to try to find ways to incorporate fall bloomers into our built landscapes as well, even though several factors can seem limiting. For instance, there are several species of asters and goldenrod that simply 'don't play well with others.' It's a fierce competition for light and water resources that has been raging all year long in the prairies of our region, and the rough and tumble New England Aster (Symphyotrichum novae-anglicae) and Canada Goldenrod (Solidago canadensis) have duked it out to triumph in September and October – but their sheer size and aggression make them poor choices for an orderly native landscape in our urban spaces. Consider instead the Deep Roots Sweet 16 star, Aromatic Aster (Symphyotrichum oblongifolium) or Cliff Goldenrod (Solidago drummondii) – both remain less than 2-3 feet tall and are super drought hardy and pollinator magnets right now. Another favorite full-sun native that actually blooms again in fall is Rose Verbena (Glandularia canadensis), amazingly one of the first and last native flowers of dry or rocky landscapes in our region.
Shade tolerant, woodland choices are critical as well, and a couple of powerhouse plants are White Snakeroot (Ageratina altissima), and Dittany (Cunila oreganoides), two vital last sources of nectar for overwintering native bees. Although Snakeroot can be weedy in appearance and a prolific self-seeder, to any landowner removing stands of Bush Honeysuckle, it's a welcome successional species with great ecological value. Cut it back or deadhead after blooming in smaller spaces or garden beds to provide a delicate white bloom to contrast the yellows and purples of other fall flowers.