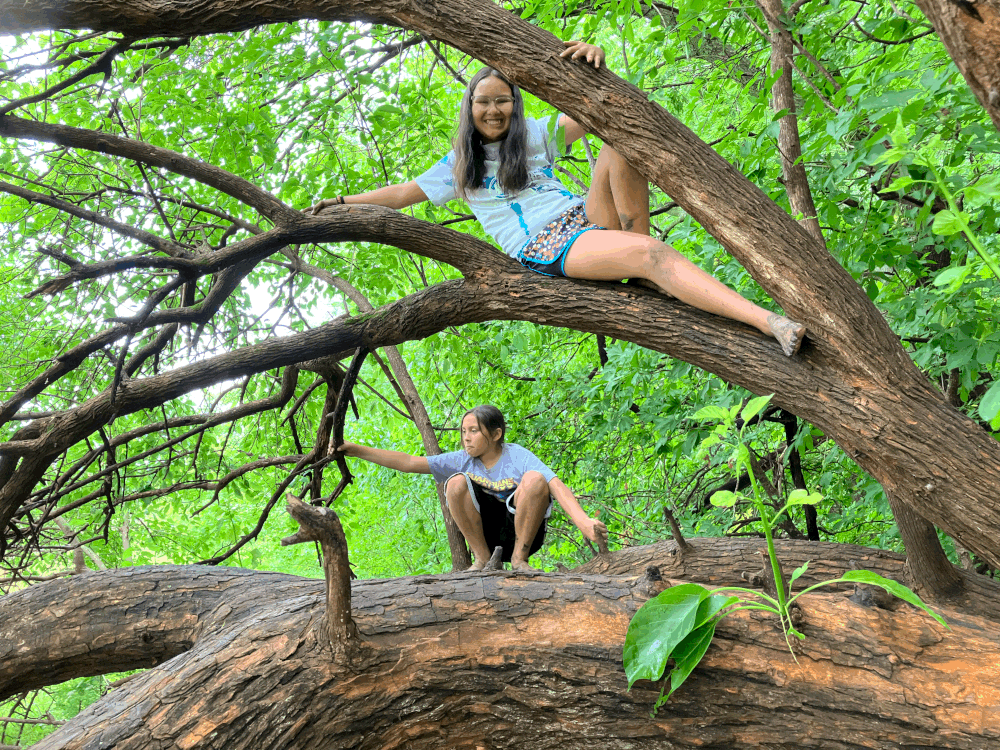 Written By: Sami Aaron, The Resilient Activist: A Joyful, Nature-Connected Community
The Blue River Forest Experience, founded by photographer and artist Kelly Daniels, takes "nature-connected education" to a deliciously deep level of immersion. 
For kids of all ages, this amazing spot in south Overland Park, Kansas offers unique, outdoor programming imbued with Indigenous Wisdom, earth-based living skills, art projects, team-building exercises, Tipi story time, and more through easy access to the meandering woodland trails, intriguing rock formations, and shimmering pond on the property.
Participants have an opportunity to connect with goats, chickens, and ducks – stepping away from technology and stepping into the healing benefits of time spent in nature – in a way that feels safe and welcoming.
This historic property, at the headwaters of Kansas City's Blue River, was once the home of the Black Bob Indians of the Shawnee Tribe. Native wildflowers, as well as medicinal and ceremonial plants, are prolific throughout the prairie and deciduous forest areas. Participants can explore edible native plant walks, farm-to-table dinners, and women's campfire circles as a respite from the stresses of everyday life.
The nonprofit also offers programs through the Association of Nature and Forest Therapy, which melds with Kelly's Native American heritage and Indigenous Wisdom about living in right relationship with the land. Kelly shares stories and knowledge gleaned from her time at Standing Rock about the environmental impact of the installation of oil pipelines on the native communities who live there. As Richard Louv shares, in Last Child in the Woods: Saving Our Children from Nature-Deficit Disorder,
"Today, kids are aware of the global threats to the environment–but their physical contact, their intimacy with nature, is fading…and this reduces the richness of human experience."
The Blue River Forest Experience is a powerful antidote to this environmental disconnect. It's lush, alluring, and embued with all the wealth of the natural world.