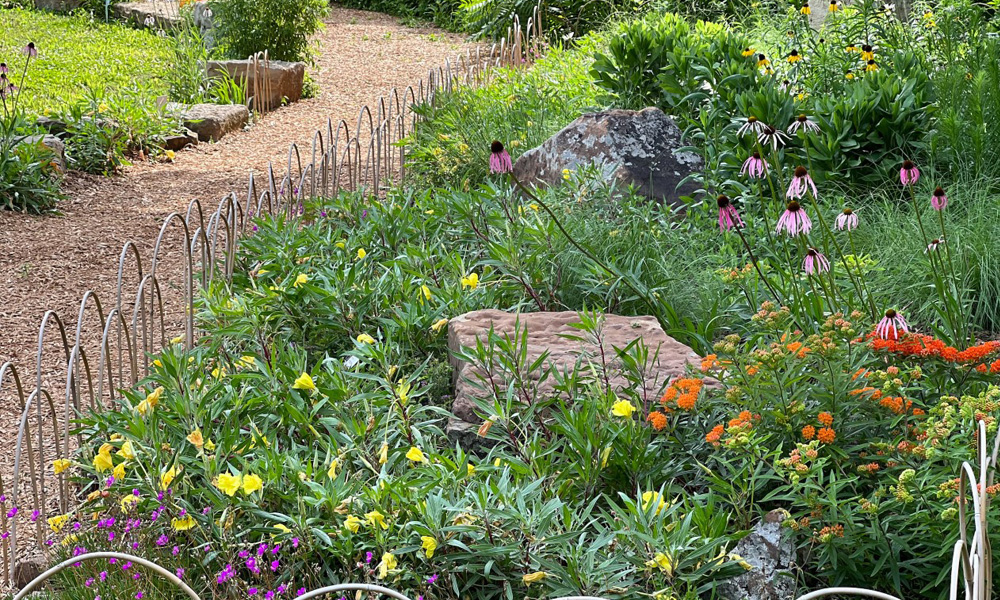 Photo credit: Pat Whalen
Gardening Goals and Early Summer Maintenance
By Cydney Ross, Outdoor Education Manager
We've finally got rain in Kansas City this past week and you know what that means… our native gardens are happy and lush!
Now is a great time to assess your landscape for the growing season and learn which plants to edit, and how. But first, spend time observing your garden. Knowing how your plants grow aids in understanding which maintenance techniques work best.
If you've watched Native Plants at Noon, you know the value of having clear gardening goals. They set you up for success, informing which plants and maintenance techniques to try.
Here are a couple prompts to consider while working in your garden:
– Are there certain garden styles you like? What gardens have you seen and why do you like them? It may seem simple, but knowing what you like can help narrow your search. I encourage you to visit the Discovery Center and Burr Oak Woods this time of year for inspiration.
– Do you enjoy weeding? No really, it's important to consider how much time you want to spend in your garden. There's no such thing as "no maintenance" when it comes to gardening, but there is knowing your plants.
Imagine a backyard wildflower meadow and a glade-inspired rock garden. Both have different aesthetics while also needing different care. The former, a swath of mixed prairie species, could benefit from a clean, defined border. The latter, a rocky glade garden would prefer regular weeding to prevent crowding.
Take a dive into "The Know Maintenance Perennial Garden". It's a great resource that offers tried and true combinations as well as specific maintenance suggestions.
Many Midwest native plants can be cut back before buds form to encourage a manageable height. This act mimics herbivory expressed in nature. MDC Native Landscape Specialist, Alix Daniel utilizes this method in the gardens at the Discovery Center. It's effective for prairie species, like New England Aster (Symphyotrichum novae-angliae), which tends to get lanky in our KC climate.
I've compiled a short list of plants that have responded well to this method:
– Aster species (Symphyotrichum sp.)
– Goldenrod species (Solidago sp.)
– Rudbeckia species (Rudbeckia sp.)
– Wild Bergamot (Monarda fistulosa)
– Willow-leaf Sunflower (Helianthus salicifolius)
If trimmed under the right conditions, it pressures the plant to bloom more and at a more compact height. We recommend you experiment with this technique between mid-May and early June before it gets too hot. If we experience more droughts this year, be sure to water your plants afterwards to prevent shock.
Tune in to next month's Native Plants at Noon at the Discovery Center. We'll focus on these maintenance techniques and more on Thursday, June 15th.
Until then, happy gardening!